Gamepedia and Fandom have joined forces and our combined teams would like to encourage all Darkest Dungeon fans to unite work together.
Please head to the community portal to discuss whether this wiki should merge with Fandom's Darkest Dungeon community.
Soundtrack
Darkest Dungeon's soundtrack is an integral component of its dark fantasy atmosphere. It was composed by Stuart Chatwood.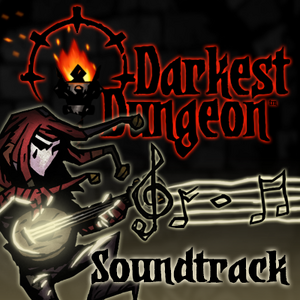 In addition to being present in the main menu and Hamlet, the soundtrack accompanies the player throughout the dungeons, varying between combat and exploration and being dynamically modified by effect of the light meter, such as by including several creepy ambient sounds when in the darkness, varying depending on the location. The Siren boss will also sing along to the background music.
The official Darkest Dungeon soundtrack is available for purchase on the Steam store as a DLC. Upon purchasing and downloading, the full album inclusive of front cover art will be located under SteamApps\Common\DarkestDungeon\soundtrack inside the user's Steam library.
The album contains 25 tracks:
The Darkest Dungeon (Theme)
The Hamlet
Explore the Ruins
Combat in the Ruins
A Brief Respite
Battle in the Warrens
Return to the Warrens
Mournweald Encounter
Terror and Madness
House of Ruin
The Cove Battle
The Final Combat
The End
Town in Chaos
The Cove Battle Siren (feat. Jennifer Chao)
Bloodletting of the Crimson Court
A Mocking Thirst
Forbidden Tannin
The Blasted Heath
Dark Mitochondra
The Senescene
The Chloroplast of Cosmarium
All Things Must Come
The Butcher's Circus Lobby
The Butcher's Circus Combat